Meet The Doctor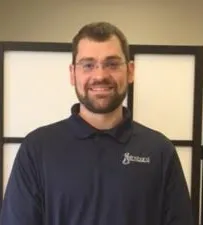 Dr. Randy Belrichard, DC, CACCP
Hailing from Lake in the Hills, Dr. Randy graduated from H.D. Jacobs High School in Algonquin before heading to NIU to study Biology and Chemistry. Dr. Randy graduated Magna Cum Laude from Palmer College of Chiropractic in Davenport, Iowa in 2011. He is certified in use of the Webster Technique for the care of pregnant women and is currently awaiting certification in Pediatric Chiropractic.

Dr. Randy has been adjusted his entire life and started chiropractic care when he was young and raced BMX and ATVs. When he was 17, a bad accident on an ATV broke 7 vertebra in his lower neck and upper back. At the hospital, he was asked what he wanted to do when he got out of school and his answer was, "Become a Chiropractor." From that day on it was his goal to become a Doctor of Chiropractic. He recovered fully without the need for surgery, using only chiropractic therapy!

While attending Palmer College Dr. Randy focused very hard on school and made it his number one priority. He became an exam proctor and volunteered as a mock patient for clinical testing for students entering the clinic system. One of his most treasured experiences while attending school was being selected to attend the clinic abroad trip to the islands of Fiji. Fiji was an awesome experience for him because the bulk of the care was for school aged children. In 6 days, Dr. Randy, along with 21 other student doctors and 3 staff doctors were able to adjust over 2,100 children and adults. While in Fiji, he met Dr. Akey, an instructor for Cranial Release Technique (CRT). After observing the technique and its benefits, Dr. Randy went to Arkansas to learn more about CRT and now uses it in his office!

Since graduating, Dr. Randy has taken many hours in continuing education for the care of pregnant woman and children. He has used his certifications and methodologies to care for many families- from baby to great grandma and grandpa.

Dr. Randy spends his free time with his family and friends and enjoys being outside with his children Cameron and Mia. He likes to fish, ride bikes, and garden. His hobbies include cooking, traveling, and working on anything with an engine.

Dr. Randy believes in the benefits of chiropractic and is passionate about making chiropractic the cornerstone for the health and wellness for you and your family.